M_o_R
®

Risk Management Courses
What is M_o_R?
M_o_R is an acronym of Management of Risk. It provides a generic framework for the management of risk across all activities of an organisation. M_o_R guidance brings together recommended approaches, checklists and pointers to more detailed sources of advice on tools and techniques. M_o_R is aligned with ISO31000, but provides additional detailed guidance on how to embed risk management in an organisation.
M_o_R incorporates all the activities required to identify and control the exposure to any type of risk, positive or negative, which may have an impact on the achievement of your business objectives, in normal business operations as well as in portfolios, programmes and projects.
The M_o_R framework is based on four core concepts, which include:
an underlying set of principles, informed by corporate governance principles and ISO31000:2009, that guide organisations as they design their internal controls;
an approach, being the organisational policies, process guide, and strategies for each organisational activity, that explain how the principles have been adapted and adopted to suit each activity; ; and
a set of processes to identify, assess, plan and implement risk to an activity; and
which need to be embedded into organisational DNA, and reviewed periodically, to ensure that the approach and processes are consistently applied across the organisation, and continually improved.
The following diagram shows these interacting elements of M_o_R: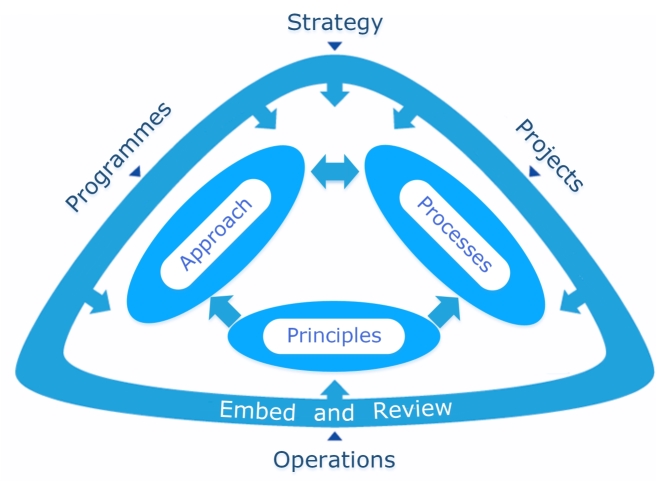 M_o_R Course Roadmap
Inspiring Projects is an Accredited Training Organisation – so you can be confident that the courses we deliver conform to the highest standards of M_o_R training. All of our M_o_R courses are based on the latest version of the syllabus.

The following diagram shows our M_o_R courses in relation to the goals supported by each course.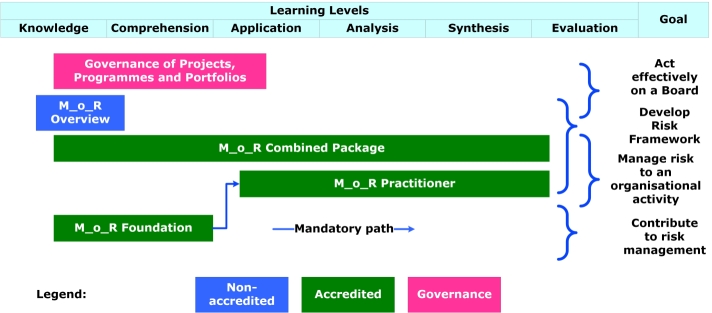 A complete range of certification courses ...
... with a wide range of additional options
We have developed a wide range of associated short courses, workshops and executive briefings, including:
An executive briefing on the features and benefits of M_o_R, and adoption issues;
An awareness briefing for project management professionals who do not require certification;
A short course for portfolio, programme and project office staff and CoE members;
These courses are delivered in-house for groups. Please contact us for more information.

M_o_R® is a registered trade mark of AXELOS Limited, used under permission of AXELOS Limited. All rights reserved.
The Swirl logo™ is a trade mark of AXELOS Limited, used under permission of AXELOS Limited. All rights reserved.